SYRIA IN CONTEXT - CORONAVIRUS UPDATE #9
Dear friends and colleagues,
In recent weeks, Syria in Context has been making our COVID-19 coverage available as a free supplement in English, as well as in Arabic. Given the lack of independent and reliable coverage of the unfolding crisis, we think this is an urgent necessity.
Please feel free to forward this and other free issues to your network.
We are an entirely subscriber funded newsletter. If you find the information contained here useful in your work, please consider subscribing to our full service.
Thank you,
Emma, Tobias and Asser
---
Syria in Context will continue to cover the impact and response to COVID-19 in Syria throughout the coming weeks. You can find previous updates on our website.
We are a wholly subscriber-funded publication. If you have found this update useful, we encourage you to consider joining our growing community by subscribing.
---
SPOTLIGHT: COVID-19 UPDATE
As of early Tuesday, the Ministry of Health (MoH) in Syria had reported 47 COVID-19 cases - with 29 recoveries and 3 deaths. Two additional cases have been reported in Syria's northeast which are not recognized by the MoH. It is also unclear whether the MoH numbers include a third case from the northeast which doesn't appear in their data disaggregated by location. Last week, unconfirmed reports of five Turkish soldiers in Afrin tested positive for COVID-19 and were taken to Turkey for treatment. No further confirmation or cases have emerged. 
Government-controlled areas: Syria's 47 COVID-19 cases recorded by the Ministry of Health are all in government-controlled areas, with one case in Daraa reported on April 28 and the rest in rural-Damascus and Damascus. Testing has commenced at satellite laboratories in Aleppo and Latakia governorate in support of the main Damascus lab. As yet, the government has not facilitated a lab in the north-east. Positive test results are usually reported to the WHO around five days after confirmation by the Syrian Ministry of Health in the form of case report forms. 
Last week, the WHO Early Warning, Alert and Response System (EWARS) data for the Damascus-led COVID-19 response were released for the period from January 1 to March 14 - a significant delay from the usual release latency of 1-3 weeks. The data does not show a drastic, unseasonal spike in Serious Acute Respiratory Illness (SARI) or Influenza-Like-Illness (ILI) when compared to 2019, but both 2019 and 2020 show a markedly higher rate than 2018 and the previous years, a difference that might be due to seasonal strains as reporting had expanded slowly and consistently in that same period.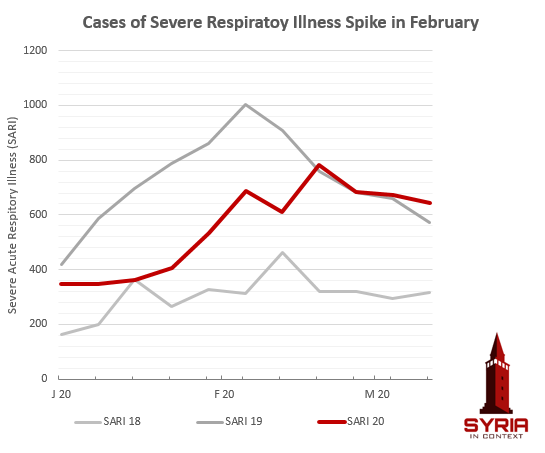 According to the data, SARI cases began to spike in mid-February, which aligns with the time at which local reports of possible COVID-19 cases began to emerge. Early in the crisis, doctors had told Syria in Context and others that they were treating increasing numbers of pneumonia and SARI patients from mid to late February onward. In the first eleven weeks of 2020, there were 258 of the reported SARI cases, including 42 deaths, were tested for various strains of flu, 100 of which returned positive for one of three strains of flu, with 22 deaths positive for flu. While such rates are not out of the ordinary, many countries have taken to categorizing and treating any SARI cases that test negative for flu strains as "potential COVID-19". This means that in any given week in February and early March, there were a number of patients who may have been infected with COVID-19 who went untested until such time as the testing capacity for Coronavirus came online. 
Indeed, last week, the Syrian Minister of Health announced that 3,325 people had been quarantined between February 5 and May 5, suggesting quarantine in Syria began far earlier than was previously thought. It transpires that a group of 24 Syrian students were evacuated from Wuhan province in China on a Mahan Air flight via Tehran on February 5 and were quarantined on arrival. A number of other Syrians were evacuated around the same time, with another group evacuating Wuhan on February 2 on Royal Jordanian who were quarantined on arrival to Jordan. A small number of Syrian businesspeople were also evacuated on February 5 on Mahan Air and reported being quarantined at Al-Duwair quarantine centre directly on arrival to Syria. They report that they were x-rayed and tested for COVID-19 at the centre, but it is not believed that Syria had testing capacity until late February or even March. 
Last week, President Bashar al-Assad issued a decree delaying the country's Parliamentary Elections to July 19. This is the second delay due to COVID-19. Work in various government Ministries is ramping back up as movement and social distancing restrictions are loosened. The focus has been on civil records, traffic and immigration and passports offices, which are running 60% this week, with a plan to be back to 100% by May 24. Only 150-200 passports per day can be issued with a priority on urgent passports. Movement restrictions are being lifted, with Islamic prayers being allowed and many churches also resuming their Sunday services. Preventative measures are being taken in churches, including closing bathrooms at all times, asking children and the sick not to come, sanitizing churches before and after prayer, and holding sermons no longer than 10 minutes. 
Syria has continued repatriating citizens from abroad. Last week, a plane from Egypt landed in Damascus, followed by planes from Oman and Sudan. Planes from Kuwait and Moscow arrived on Monday this week and from the UAE on Tuesday. Later this week, repatriations from Iraq will be allowed. The Syrian government has blasted Europe for refusing to allow their planes permission to land in the EU, which has sanctioned the airlines, to repatriate Syrians from the continent. Repatriations are not treated as refugee returns, with the guidance from some embassies at least stipulating that those choosing to repatriate must not be registered refugees or have irregularities in their status. That said, allowing such flights from Europe could serve to open up narratives about return that are presently not in accordance with EU policy, making Syrians with asylum status in EU states feel pressured or unsafe. 
On Tuesday, the Board of Managers of the National Fund for Social Aid announced that a one-time payment of  100,000 SYP would be available to day-wage and seasonal workers to offset the hardship caused by COVID-19 restrictions. Workers in the tourism sector will receive the payments first, followed by bus drivers, those in the construction and handicraft sectors, among others. At the current exchange rate, the payment is around 65 USD. Workers in areas of Syria outside of government control are not able to receive similar payments. 
Northwest: As of Sunday, 404 tests had been conducted in Syria's northwest according to the Interim Ministry of Health. All tests have returned negative. Over 100 tests were done in the period since May 1, suggesting both an uptick in testing and sampling capacity and implementation of a more proactive testing policy, including the precautionary testing of SARI cases in the region. Last week's news of several COVID-19 cases within a Turkish Army base in Afrin may have prompted additional screening in the area. The Syrian NGO Alliance released a statement this week calling for all non-medically monitored border crossings between Syria and Turkey to be closed to prevent any Coronavirus outbreak in the area. 
After a very slow start, some headway is being made in COVID-19 preparedness in the northwest. The procurement and delivery of PPE equipment has been difficult, but according to the WHO, an additional  5,000 N95 face masks have reached the area. The Qatar Charity reported that they provided another 3,500 N95 protective masks, and 80,000 surgical masks for health personnel, 175 electronic thermometers, and 85,000 pairs of medical gloves to north-Aleppo. 
Over the last week, huge efforts were exerted to increase the number of triaging facilities in the area.  The WHO says 300 new tents have been delivered across the region and the Qatar Charity says they installed 72 tents in 36 health facilities in north-Aleppo. The Idlib Health Directorate says partner organizations installed tents at a total of 116 secondary health facilities and 90 primary health facilities across the area, meaning patients and visitors will now enter a sorting tent on arrival at the health centres before entering the primary facility. There, they will have temperature checks and take up hygiene measures. Those with high fevers will be taken to isolation to undergo additional medical screening. Additional isolation centres for those with suspected COVID-19 have also been increased, with new centres in Kafr Karim and Kafr Takarim being completed. Additional centres are planned. 
Four Hospitals are now equipped to receive severe Coronavirus patients if needed. While the procurement of 90 additional ventilators for Idlib has not yet resulted in any new devices, 21 ventilators have been repurposed for COVID-19 use. 
On Sunday, mass protests against the regime of Bashar al-Assad were held in Idlib city and widely shared via social media. The protests highlight the difficulty enforcing social distancing in Idlib where locals, as well as armed factions, are more concerned with the immediate threat of the conflict than the virus that has not yet materialized in the region. 
Northeast: As of May 7, there were six confirmed COVID-19 cases in the northeast with one death, two active cases, and three recoveries. Since the discovery of the lastest cases last week (three cases were identified using antibody tests, meaning they had already had the virus), access restrictions at border crossings have tightened. The NES reportedly has 3,500 antibody tests. After processing in Damascus by the Ministry of Health, results for tests are communicated to the WHO within about five days of confirmation, delaying local responses to outbreaks. Of four PCR machines in NES, only one was reported to be operational as of early last week and only operates two days per week, this also hinders timely testing. According to the AANES, there are only 1,000-1,500 kits for the PCR tests, with no clear pathway to more reaching the area. 
However, testing and contact-tracing capacity, as well as procedures for proactive management of serious SARI cases is increasing across the NES. According to authorities, 119 samples have been collected in NES using three different systems and some tests have been taken from the same individuals under different testing standards. At the time of writing, 210 of a planned 855 isolation beds are up and running, while none of the 65 ICU beds are presently available for serious cases. 
Those linked to confirmed Coronavirus cases were reportedly being tested and 14 households in the Al Omran neighbourhood of Hasakah city have been under quarantine for 14 days. However, the disjointed response and inconsistent procedures make it difficult to ascertain the precise number of tests, cases, and follow-ups. This ongoing issue makes the chance of an outbreak getting away from authorities in the northeast ever-more likely.  
Movement restrictions and curfew rules were extended this week and will last until the last day of the Eid holiday later this month. Curfew runs from 7pm to 6am, with shops allowed to open from 6am to 7pm. Religious rituals will be allowed in the final week of Ramadan except in Hasakah. Compliance with curfews and movement restrictions is decreasing as the economic impact of lockdown forces people onto the streets. A recent INGO survey in NES found that two-thirds of areas did not see large community acceptance of social distancing. The survey also found that respondents in Hasakah city were the least aware of COVID-19 and its symptoms, particularly worrying given the city is the centre of the NES outbreak.
On Monday, a thirty-tonne convoy of medical equipment reached Qamishli by road. It is not yet clear what was on the convoy and whether it contained COVID-19 supplies or simply the medical equipment which has been held up due to the shift in cross-border access in January. 
Neighbouring countries: Lebanon has 859 confirmed COVID-19 cases, 26 deaths, and 234 people who have recovered from the virus. After easing lockdown measures over the last fortnight, the country has seen a rapid surge of confirmed COVID-19 cases in recent days, leading the government to reimpose measures in the coming days. In one case, a returning expat is said to have infected at least ten people. As a result, the 7 pm curfew has been reinstated as of today, Tuesday 11. The Lebanese cabinet also decided to enforce another total lockdown from Thursday to Sunday alongside intensified testing to determine the rate of community infection around the new spike in cases. Lebanon's economic woes mean it cannot afford a widespread COVID-19 outbreak and has, so far, taken strict measures to ensure the caseload remains low. Repatriations have begun in the last couple of weeks, with early flights seeing passengers well spaced out and tested and/or temporarily quarantined on arrival. However, recent days have seen social media posts showing heavily loaded aircraft with no social distancing on board. The comparatively high number of positive cases within those returning has contributed to the spike in Lebanon's infections. Beirut airport remains closed to regular commercial passenger flights, with only a small handful of evacuation flights being offered. The 'exit strategy' from the lockdown slated June 8 as the day for the airport to reopen, but the high numbers of infections within those arriving to the country may complicate this. 
Lebanon's economic woes continue to impact Syrians in the country, many of whom rely on day labour to meet their basic living costs. NGOs have been hampered by the restrictions on banks, the falling value of the Lira and the relatively high inflation. A survey by Refugee Protection Watch found  85% of Syrian and Syrian-Palestinian respondents had lost their main source of income due to COVID-19 measures, with 89% saying they could not afford hygiene supplies, vital in preventing COVID-19. Just 4.5% said they had received additional aid. 
Jordan has 562 confirmed COVID-19 cases, nine deaths, and 390 recoveries. After very heavy lockdown measures, Jordan is beginning to open up again. On Monday, it was announced that citizens could move around using their vehicles or on foot from 8 am to 7 pm. Public transport and rideshares must limit the number of passengers to 50% of capacity. 
Turkey has 139,771 cases, with 3,841 deaths, and 95,780 recoveries. As of Monday, malls, hairdressers, and some other stores were allowed to open for the first time in seven weeks, and restrictions also begin to be lifted on the elderly and young who have faced specific restrictions. Iraq has 2,818 cases, with 110 deaths, and 1,790 people have recovered. 
EU: Today, the EU took the step of releasing guidance and a Q and A outlining how EU sanctions work in relation to the fight against COVID-19. The EU maintains that sanctions do not relate to products used to treat or prevent COVID-19. Western states who impose sanctions on Syria broke their silence last week in the UNSC meeting, where the UK, France, and Estonia all made robust comments refuting the fact sanctions were impacting the COVID-19 response, with the UK saying that: "Goods and medical supplies used for humanitarian purposes are not subject to EU sanctions, which the UK continues to apply, and additional exemptions from sanctions are available for humanitarian activity in Syria." The Syrian CSO groups, SNHR and SACD, have both issued reports and statements outlining their belief that sanctions do not impact the COVID-19 response in Syria. The Syrian government has been asking for the western sanctions imposed on the country to be lifted, in order to be able to combat the spread of the virus. 
Key Reads:
---
Syria in Context will continue to cover the impact and response to COVID-19 in Syria throughout the coming weeks. You can find previous updates on our website.
We are a wholly subscriber-funded publication. If you have found this update useful, we encourage you to consider joining our growing community:
---
SYRIA IN CONTEXT is a subscription newsletter edited by Emma Beals and Tobias Schneider and written with Asser Khattab. You can follow us on twitter @SyriaInContext or email us at SyriaInContext@gmail.com .
We are entirely subscriber funded. So if you're not a subscriber, but found the above information useful, please consider subscribing right here.