SYRIA IN CONTEXT - CORONAVIRUS UPDATE #20
Dear friends and colleagues,
In recent weeks, Syria in Context has been making our COVID-19 coverage available as a free supplement in English, as well as in Arabic (with kind support from the Heinrich Böll Stiftung Middle East). Given the lack of independent and reliable coverage of the unfolding crisis, we think this is an urgent necessity.
Please feel free to forward this and other free issues to your network.
We are an entirely subscriber funded newsletter. If you find the information contained here useful in your work, please consider subscribing to our full service.
Thank you,
Emma, Tobias and Asser
---
Syria in Context will continue to cover the impact and response to COVID-19 in Syria throughout the coming weeks. You can find previous updates on our website.
We are a wholly subscriber-funded publication. If you have found this update useful, we encourage you to consider joining our growing community by subscribing.
---
WEEKLY COVID-19 UPDATE
COVID-19 cases are on the rise in all areas of Syria, especially in government-held governorates. Three weeks ago, Syria in Context reported that the government's figures vastly understate the scale of the outbreak and estimated that there are likely at least 85,000 cases in Damascus alone. Official figures continue to lag far behind reality–– with 2,754 confirmed COVID-19 cases in Syria as of August 25. Of these, 2,365 were recorded in government-controlled areas, including 95 deaths and 533 recoveries, while 1,737 cases remain active. The northwest has conducted 5,160 Coronavirus tests, 61 of which have returned positive. In northeast Syria there are 400 cases so far, indicating rapid spread in the region (here too it is believed that the true caseload outpaces official figures).
Government-Controlled: Over the past week, the Syrian Ministry of Health registered more than 500 cases, raising the total number of confirmed cases to 2,365 by August 25. Thus far, 95 patients with confirmed infections died and 533 recovered, leaving 1,737 active cases. However, all other available evidence continues to point towards a significantly larger outbreak in the Damascus region the scale of which far outstrips the official reporting. In our last issue, Syria in Context estimated that the Syrian capital was likely suffering 60-100,000 cases based on Imperial College of London models. The scale of unreported cases in Damascus received renewed attention this week when four out of five members of the constitutional committee arriving from Damascus tested positive for the virus on arrival.
Reports of the uncontrolled and unrecorded spread of the virus are further corroborated by new satellite images of Najha cemetery outside Damascus. Earlier reporting from Syria in Context had identified Najha as the likely burial site of undisclosed COVID-19 fatalities in the capital region. The latest images, taken on August 19, show two areas of the new cemetery - the sections associated with COVID-19 burials - have grown notably since August 4, when the last images were recorded. Both the August 19 and the August 4 images appear to show burials in progress. While image quality makes it difficult to discern the precise count of fresh graves, the scale of the expansion suggests that hundreds of bodies have been buried in the two weeks between the images.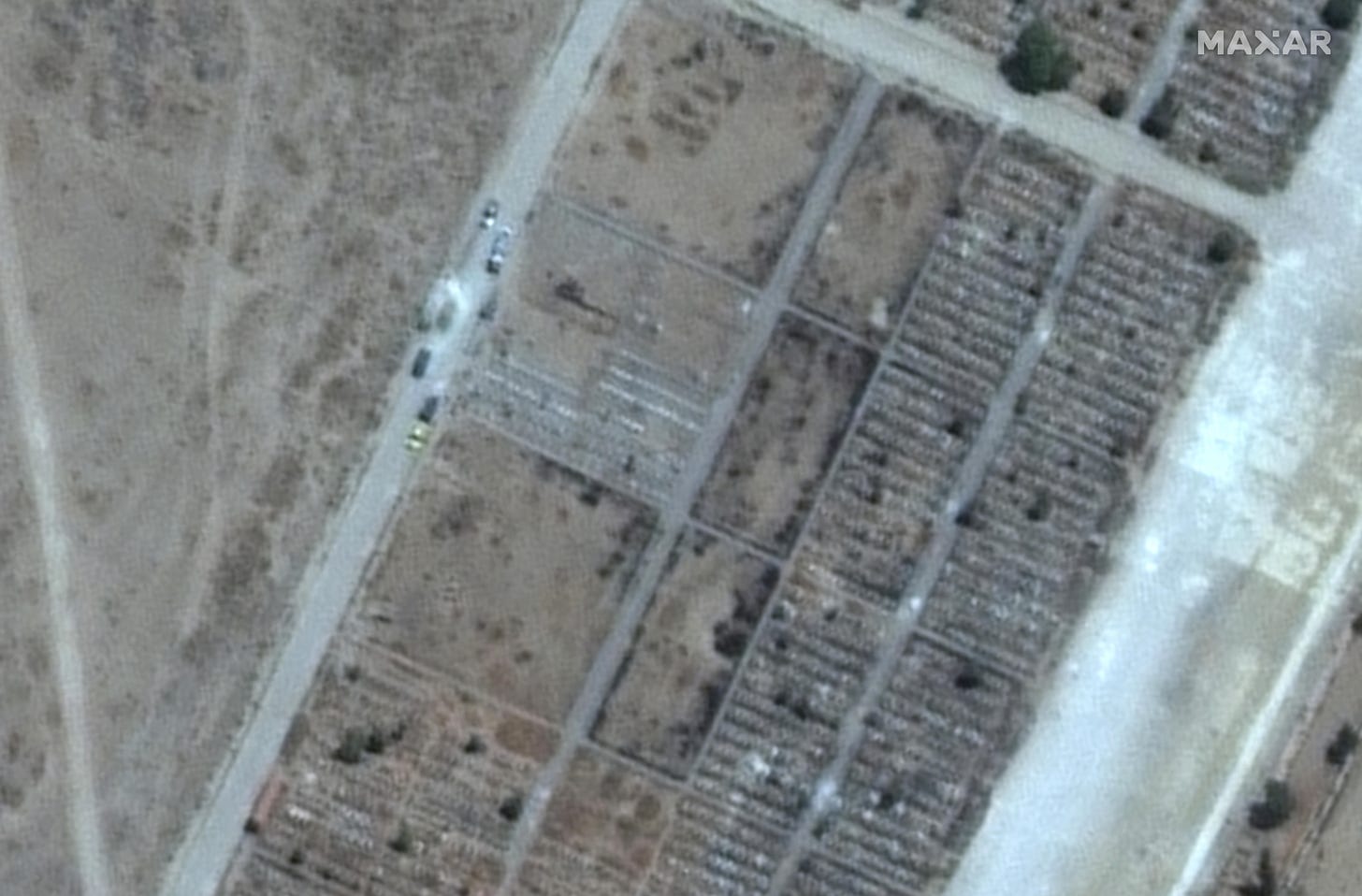 Najha Cemetery, August 19, 2020. Satellite image ©2020 Maxar Technologies.
Meanwhile, the Damascus governorate has attempted to placate public speculation by announcing an implausible drop in daily deaths over the past week. Earlier in August, in response to rumours of large numbers of deaths in the capital, the governorate had announced that week's total death figures. Late last week, seemingly in response to further speculation and reporting about the size of the COVID-19 outbreak, the Damascus governorate issued a statement detailing that at its peak, death rates in the capital had reached a high of 150 per day, but that fatalities were now back down to 50 per day with a daily average between 25-45, comparable to pre-pandemic numbers. Besides further undermining official numbers reported on a national level, such a steep decline in fatalities appears unrealistic given experience around the world, suggesting these statements of the governorate may be unreliable themselves.
Cases also continue to spread across different government-held governorates of Syria: Of the 222 cases registered between Sunday morning and Tuesday night, 64 were in Damascus; 48 in Aleppo; 37 in Latakia; 18 in Sweida; 17 in Hama; 14 in Homs, nine in Rural Damascus, eight in Daraa, three in Quneitra, and two in Deir Ezzor. Of the deaths from the three days, four were in Damascus, three in Homs, one in Rural Damascus, one in Latakia and one in Aleppo.
In the absence of an effective public or international response, doctors in Damascus and across Syria continue to treat patients using social media, telemedicine and home care due to the lack of available hospital beds and fear within the population. Volunteer projects have sprung up in Damascus and Aleppo and now include freely available oxygen canisters to those needing ventilators in their homes. On 23 August, a humanitarian worker, Khalil Ammash, was killed when an oxygen canister exploded at the medical supply company he had turned into a volunteer project to help fellow Syrians with oxygen. One doctor who is providing help on social media who spoke to Syria in Context said they were treating 50-100 people per day, figures which corresponded to those of a similar project (run with different doctors). According to them, there were no available tests: "Forget about them, there aren't any, we are relying on symptoms [to diagnose]." They went on to say PPE was lacking. Another doctor similarly reported a shortage of PPE and oxygen, particularly for those being treated at home. Additionally, the lack of awareness of the risks, symptoms, treatments, and access to treatment of the disease were cited by doctors as concerns. On August 20, Syria received medical supplies in aid from Iran.
Further concerns surround the end of the school hiatus across the country. The government has decided to reopen schools on September 13 after having reviewed recommendations made by the Ministry of Health, a move that is worrying doctors and communities.
The head of Syria's diplomatic mission to Cairo, Bassam Darwish, said that on Thursday, a plane will repatriate 250 Syrians who have been stuck in Egypt. Lebanon's General Security announced that the borders with Syria will be open on August 25 and 27 for Lebanese citizens who wish to return home.
Northwest: New appearance of new COVID-19 infections in Syria's northwest appears to be slowing, with only two cases reported since August 20. As of Tuesday, there are 61 registered infections in Idlib, 52 of whom recovered and one died. However, just 371 of 656 identified contacts of known cases have been tested, meaning it is possible that some cases remain unidentified.
The Interim Government's Directorate of Health in Idlib published an online questionnaire to help people figure out whether they possibly have COVID-19 or not. Respondents can select the symptoms they may be experiencing, whether they have travelled outside the northwest recently, whether they have been in contact with someone who entered the area in the past 14 days, as well as other risk factors.
Northeast: Cases of Coronavirus in northeast Syria continue to rise steadily, with deaths also beginning to increase. To date, 400 cases and 62 deaths have been reported, with 175 infections and 48 deaths reported in the last week alone. Despite the arrival of testing machines in NES in recent weeks, testing rates remain low and the rate of positive tests remains high. This suggests community spread is entrenched and true caseloads are higher than reported. The highest number of registered cases is in the city of Qamishli, where at least 45 infections were recorded since August 22.
A curfew in NES has been extended until August 27 in an effort to prevent the virus from spreading. Since August 18, wearing a mask in public spaces has been compulsory, with the AANES imposing a modest penalty of 1,000 SYP on those who are seen without one.
Neighbouring countries: Lebanon has recorded 13,155 COVID-19 cases, with 126 deaths and 3,704 recoveries. Lebanon registered 532 cases one Tuesday, as well as 12 deaths, the highest daily death rate yet. On August 21, the administration of the Saint Georges Hospital in Al-Hadath, near Beirut, said that the hospital will be entirely dedicated to COVID-19 cases as of the end of this week. On Tuesday, the Syndicate of Owners of Restaurants in Lebanon announced they were shifting to civil disobedience. Cafés, restaurants, and bars will reopen despite the lockdown, and that they will stop paying their dues to the government because it has lost its legitimacy.
In Turkey, cases continue to grow, with 259,692 cases recorded, leading to 6,139 deaths and 237,908 recoveries. In Iran, 363,363 cases of COVID-19 have been recorded, with 20,901 deaths and 313,058 recoveries. Iraq has 207,985 cases, of whom 6,519 died and 150,389 recovered. In Jordan, there have been 1,639 cases of COVID-19, with 14 deaths and 1,335 recoveries. Jordanian Minister of Interior announced on August 19 that the shutdown of Jaber border crossing with Syria will be renewed for another week as Jordan is worried that COVID-19 , which is pretty much under control there, might start spreading into the country from Syria.
COVID-19 Key Reads:
---
Syria in Context will continue to cover the impact and response to COVID-19 in Syria throughout the coming weeks. You can find previous updates on our website.
We are a wholly subscriber-funded publication. If you have found this update useful, we encourage you to consider joining our growing community:
---
SYRIA IN CONTEXT is a subscription newsletter edited by Emma Beals and Tobias Schneider and written with Asser Khattab. You can follow us on twitter @SyriaContext or email us.
We are entirely subscriber funded. So if you're not a subscriber, but found the above information useful, please consider subscribing right here.