FREE: SYRIA IN CONTEXT - CORONAVIRUS UPDATE #3
Dear friends and colleagues,
Given the extraordinary global challenge of COVID-19, we have decided to share with you again our weekly spotlight on the CoronaVirus response in Syria.
For our previous issues, click here and here.
Please feel free to forward this and other free issues to your network. If you find the information contained here useful in your work, please consider subscribing to our full service. We are an entirely subscriber funded newsletter.
Thank you,
Emma, Tobias and Suhail
---
Syria in Context will continue to cover the impact and response to COVID-19 in Syria throughout the coming weeks. For our previous issue, click here and here.
We are a wholly subscriber-funded publication. If you have found this update useful, we encourage you to consider joining our growing community:
---
SPOTLIGHT: CORONAVIRUS UPDATE
As of Tuesday morning, Syria had reported two COVID-19 related deaths from 10 confirmed cases. All cases were in government-controlled areas of the country. As yet, no positive tests have been returned from the northwest or northeast of the country. One of the reported deaths was an individual already in a government quarantine, while the other was a previously unknown case. This again suggests that the rate of infection is higher and more widespread than officially reported figures suggest. As Syria in Contextdetailed in past issues, doctors across regime Syria (including, speaking to the Washington Post, inside Syrian prisons) report that they have witnessed high caseloads of suspected COVID-19 patients that did not receive testing.
An LSE report late last week estimated that Syria currently had 325 available ICU beds which would give Syria a maximum COVID-19 caseload capacity of roughly 6,500 cases nationwide. According to Syria in Context's own estimates, the true number of available beds should be slightly higher than Gharibah and Mehchy report, but only by a few tens, which makes only a marginal difference in projected caseload capacity. Keeping active infections in Syria below 6,500 is all but impossible and would require prevention measures, widespread testing, and contact tracing at levels that are simply impossible in the country whose capacity has been hollowed out by years of war. Additionally, Syria's lack of healthcare capacity generally, crowded conditions and high numbers of IDPs, lack of hygiene and WASH supplies in some areas, and economic difficulties mean the virus is likely to spread faster and see more chronic cases than other countries.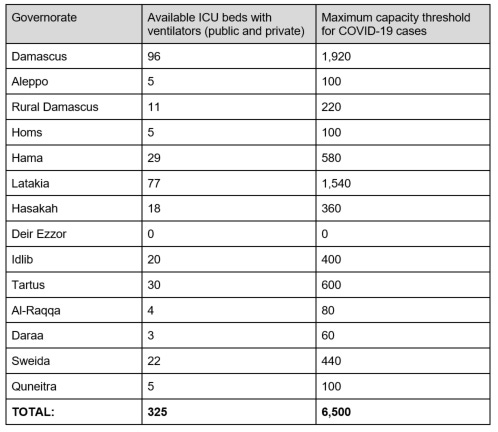 Source: Gharibah, Mazen and Mehchy, Zaki (2020), COVID-19 pandemic: Syria's response and healthcare capacity, Conflict Research Programme, London School of Economics and Political Science (LSE)
Government-controlled areas of the country have begun enforcing a nighttime curfew announced the previous week, meaning residents are unable to leave their homes between 6 pm and 6 am. The curfew is being policed in major towns and cities. According to state-run media, 153 people were arrested for violations during the first day of the curfew. Widespread initiatives are finally getting underway across the country in an attempt to curb the rate of infection, with disinfection campaigns, some public health messaging, and manufacture and distribution of cleaning and hygiene products being scaled up. A full ban on travel between governorates has been implemented in addition to setting up field hospitals in Aleppo, Homs and Damascus.
Among the key challenges to social distancing measures are the long lines forming outside distribution centers for subsidized goods and banks. In order to reduce the queues at bakeries, the government limited each individual to one and a half loaves of bread, leading to an increase in the price of bread on the black market. It also announced new measures to try and mitigate the shortage of available bread which had suffered under the compounding crisis. Syrian Minister of Economy said the Ministry will provide assistance to private bakeries and has lifted limitations on importing flour and it will no longer be limited to specific industries like before, opening the door, for the first time, to the private sector to import wheat and flour for bread.
North-East Syria (NES) now has nine quarantine centres for COVID-19 cases but still no tests. According to the Autonomous Administration of NES, there are 40 ventilators available in the area but any testing undertaken in NES must be processed in Damascus which continues to interfere with aid delivery in the region. The blocking of aid deliveries from Damascus was raised in the UNSC on Monday. The previous lifeline of the region, Al Yarubiyah crossing to Iraq, which was removed from the UNSC cross-border resolution in January, has been closed in an attempt to prevent the virus spread. This led to a shortage of medical supplies in NES.
Exploiting the uncertainty caused by the COVID-19 crisis, ISIS prisoners in Ghwiran Prison staged a riot. SDF spokesperson Mustafa Bali confirmed the clashes on Monday and reported that the prisoners had taken control of the first floor of the prison, allowing some to escape. According to the SDF statement, at least some of the escaped prisoners were later recaptured with the help of US drones flying over the area. According to local journalists, SDF personnel retook complete control of the prison and the search continues for the prisoners who remain at large.
As of Tuesday, crossing points from Idlib to northern Aleppo in Northwest Syria appeared to be closed in order to prevent the spread of the virus. It is unclear whether COVID-19 tests have actually reached Idlib yet with local NGOs suggesting they had not yet been received in the province. The WHO reports that it and its partners have trained 145 health staff from 35 facilities in Idlib, Azaz and Afrin, and hope to "train 540 health workers from 180 health facilities in the northwest on staff and patient safety and infection prevention and control." The WHO says they are "working with partners to procure 60 ventilators in addition to the 153 ventilators that are in use in Syria's NW" but say that this may face delays, due to the global shortages. NGOs in the north of Syria say that the limited number of ventilators in the area are already almost all in use. The WHO's prevention taskforce has been leading on prevention initiatives for several weeks but has yet to produce concrete results, according to local NGOs who are becoming increasingly concerned about the lack of action. In the meantime, NGOs have begun work on five quarantine centres in northern Aleppo due to a grant from the Syria Recovery Trust Fund and further support from the Government of Turkey. The package includes medical equipment, protection equipment and hygiene kits for IDPs. Additional COVID-19 specific training has been arranged in hospitals and camps, Compliance with prevention measures in the region is also proving difficult. On Saturday, clashes erupted in al-Bab city which left two dead after police tried to shut down a street vendor in compliance with the Local Council's containment measures. The vendor appeared to be a member of the notorious Ahrar Al-Sharqiye armed group.
In neighbouring countries, measures are being taken to protect populations against the virus. Lebanon has been in lockdown for several weeks now and quarantine centres are being set up in the informal settlements housing refugees in the Bekaa. Lebanon has managed to keep its caseload low after implementing strict social distancing early on. Jordan has also managed to suppress the virus reasonably effectively by implementing strict curfews, initially banning all movement, before allowing visits to the supermarket. Many of Jordan's refugees live in large refugee camps in the country, meaning they are easily accessible to aid workers and medical care. Turkey's COVID-19 picture is more worrying, with their caseload increasing on a steeper trajectory than almost any other country. Turkey's refugee population is also less likely to live in camps and may not be linked to public health messaging systems in the same way. Individuals without papers are likely to feel vulnerable accessing healthcare in the wake of a decreasing legal and security environment for unregistered Syrians in the country. In Greece, concerns have been raised about the conditions new arrivals are being kept in under the auspices of quarantine for potential COVID-19 infection, with HRW describing the conditions as cramped and devoid of health interventions.
On Friday, the Crown Prince of Abu Dhabi Mohamad Bin Zayed called President Bashar al-Assad for the first time since 2011. MBZ tweeted that the call "was about the ramifications of the Coronavirus outbreak and the support of UAE and the Emirati people to the Syrian people" adding that "Syria will not be left alone in these critical conditions". The UAE announced the reopening of its embassy in Damascus in December 2018 and has been flirting with the restoration of relations with the Syrian regime for longer. The call was the first open sign of political warming toward Damascus as a result of COVID-19. Assad has called for sanctions relief and support to help combat the crisis and it is likely this opening will be exploited by actors wishing to begin to normalize relations.
The United Nations Office of the Special Envoy and OCHA Chief Mark Lowcock also called for "for the waiving of sanctions that can undermine countries' capacity to respond to the pandemic." In the Syrian context, they asked for humanitarian waivers to be applied to aid the response. The US later tweeted in response a statement highlighting their use of such waivers, addressing the Syrian people to highlight that US sanctions were not preventing medical assistance reaching them. The OSE also called for an enduring and expanded ceasefire as well as prisoner releases during his UNSC briefing on Monday. These calls were echoed by the EU in a public statement on Sunday and the UN's Commission of Inquiry in a statement on Saturday. Despite numerous similar statements from political actors and civil society in recent weeks, there is not yet any evidence they are being heeded.
Indeed, the military situation in both the northwest and northeast remains fragile, highlighting the need for an expanded ceasefire agreement during the COVID-19 crisis. In the north-west, the Turkish-Russian ceasefire that brought an end to hostilities depends on the peaceful implementation of a "security corridor" along the M4 highway, with joint Turkish-Russian patrols. Ongoing tensions around this corridor have continued, leaving Turks to control the corridor alone, and it is likely to remain a source of potential conflict. Last week, Turkey also cut off water supplies of SDF-held areas northeast Syria from Allouk pumping station which provides water to the majority of the area. According to sources, Turkey cut the water supply due to non-compliance with a Turkish-Russian deal which says the areas of the north-east under Turkish-back armed group control must receive 30 megawatts of electricity. When the area received only 10 megawatts, the Allouk pumping station was stopped. On Thursday, maintenance workers entered the pumping station with Russian and Turkish soldiers and the water was restored, before being cut off again on Sunday. The incident highlights how precarious peace is in Syria.
The UN has called for additional funding for the COVID-19 response across the world. While the WHO is leading the Syria response, it is unlikely they have the capacity to single-handedly manage the response in Syria. The European Union on Tuesday announced an additional 239€ million for its regional response to COVID-19.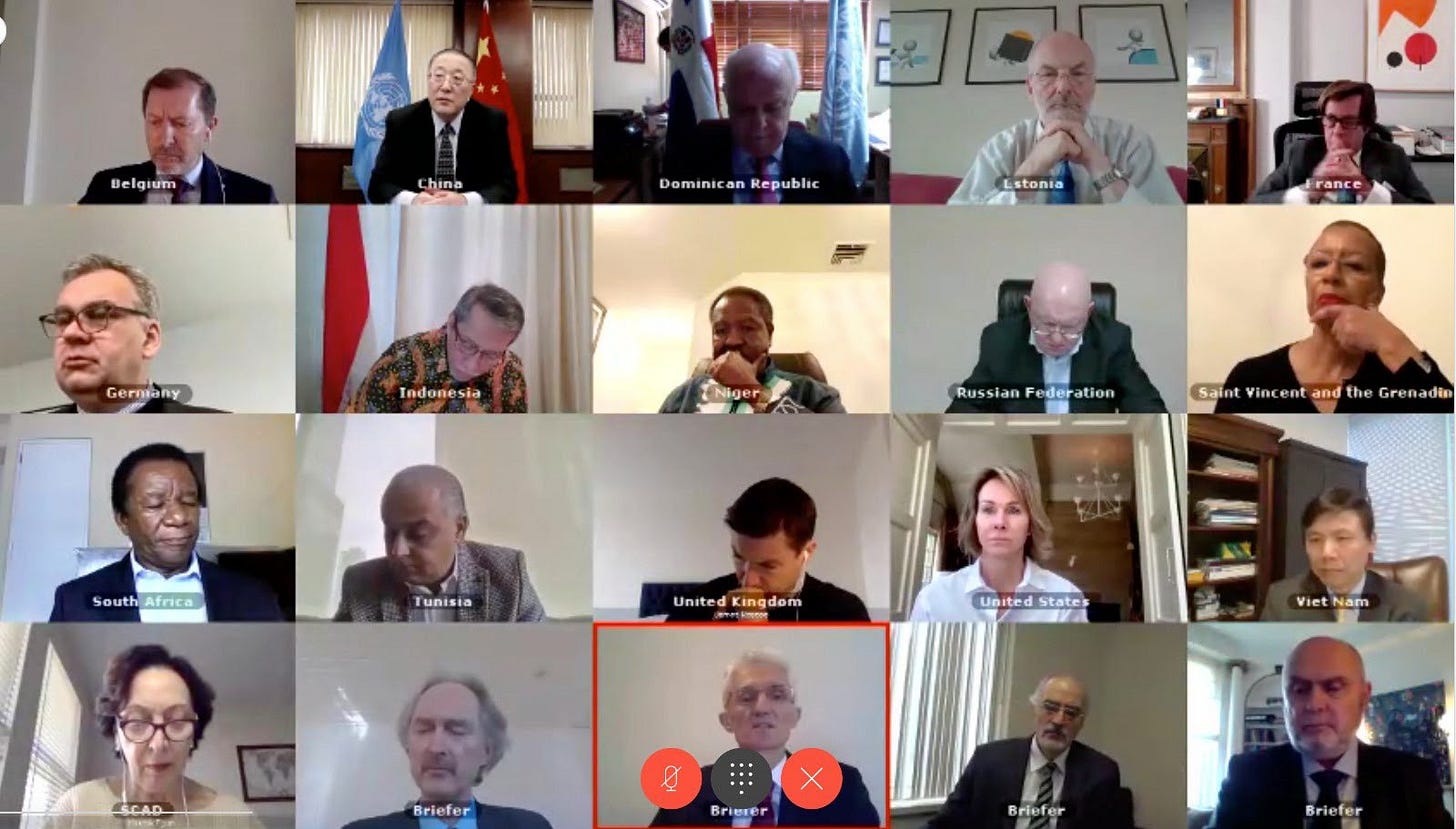 KEY READS
---
Syria in Context will continue to cover the impact and response to COVID-19 in Syria throughout the coming weeks.
We are a wholly subscriber-funded publication. If you have found this update useful, we encourage you to consider joining our growing community:
---
SYRIA IN CONTEXT is a subscription newsletter edited by Emma Beals and Tobias Schneider and written with Suhail al-Ghazi. You can follow us on twitter @SyriaInContext or email us at SyriaInContext@gmail.com.
We are entirely subscriber funded. So if you're not a subscriber, but found the above information useful, please consider subscribing right here.